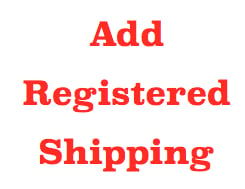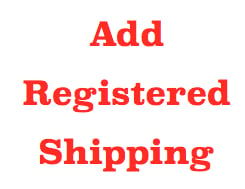 REGISTERED SHIPPING (Einschreiben)
€0.01
It happens from time to time that an order doesn't show up at the customers place. Sometimes it just takes very long and sometimes things do get lost. It is less than one out of thirty cases where we are having problems and also that's more likely when shipping outside of the European Union because of customs.
If you want to kill that 1 out of 30 chance that your order gets lost, we gladly use registered shipping. Sorry, it is an extra cost, but this makes orders trackable.
EXTRA COSTS WILL BE ADDED TO THE SHIPPING RATES DURING CHECKOUT
Price for EU countries: € 3,00
Price for Rest of World: € 2,50
[german]
Wenn ihr den Versand als Einschreiben mit Nachweis haben wollt, dann packt euch dieses Item mit in die Bestellung. Am Postschalter können wir dann für einen extra Betrag die Bestellung als Einschreiben versenden.
DIE EXTRA-KOSTEN WERDEN BEI DER BESTELLUNG ZUR VERSANDPAUSCHALE ADDIERT.